The Food
Good food,
the season's products,
top quality
I make good food made from scratch from the produce that are in season. I do not compromise with the quality. I cook fine French cuisine such as bouillabaisse, confit de canard and foie gras, as well as traditional Danish food such as christmas lunch and duck for the eve before Saint Martin´s day. A whole roasted pig or paella is also an option. I make the most fantastic wedding cakes with many stories. Receptions, weddings, communions, 80 yr. birthdays…. Any time where good food is needed, I can make the food, and contribute to making it a very special occasion, you'll remember for a long time.
I love what I do!
I like to make people happy with the food that I make.
As a person I am very honest, friendly and accommodating. I like things to be informal. We meet before you order the menu. When you order food from me, you do not cross off dishes on a list.
It works well, that we meet over a glass of wine at my place, so I can explain what I have to offer, and we can discuss your wishes for the menu, so you get exactly what you would like. I can make suggestions as to what dishes would be good to choose based on the produce the season offers.
I am very proud of the good food I make, and very happy to make others happy with it.
I offer a super service, and can cater to all your needs for your party. Food, wine, cutlery and crockery…
Experience
I was apprenticed at age 14, and have been in the business ever since. I have experience from some of the finest restaurants in France and in Denmark. I have worked in both U.S.A and Ireland. I have also experience from a canteen for some years.
In France I have had the opportunity to work with well-known chefs and learned the basics of cooking. Many hours in the kitchen to learn how to be a good cook has never deterred me. As an apprentice I learned discipline and lost my heart to cooking. Many years in Michelin restaurants; Palace hotel in Monaco with 40 cooks and a chef who constantly shouted at us. Two and three star Michelin restaurants in Paris, Country Club in Beverly Hills U.S.A., chef in a manor house "Woodhill House" in Ireland. It was from the 17th. Century, complete with tales of "The White Lady".
In Denmark I have learned to make traditional Danish food and I have been able to show my cooking art, and make a special style of cooking. It is a good mix of all the places I have worked, all the cooks I have learned from, and the countries I have worked in. It gives a unique way of cooking, you won´t find anywhere else.
Thierry Olive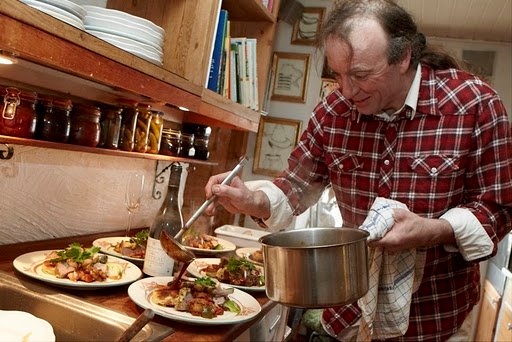 I am French, and raised in Provence. My grandfather was the head gardener in Marseille, and at the same time he had a large kitchen garden. My grandmother worked at home, and cooked with the good produce of Southern France. To eat at her place was like attending Babettes Feast. It is from her, I have my passion for cooking. I came to Denmark in 1990, and have lived here ever since. So I have lived half my life in France and half in Denmark.
Privately I am married and have a son. We live in the old Dairy in Skovlunde, in the old village. In my spare time I like to do sports such as mountainbike, spinning, fitness and such. And I love nature and fishing. Particularly fly-fishing. I have fished in New Zealand, Denmark, Sweden, Ireland, Groenland, Iceland, Slovenia and France.
Thierry's news
My ideas, good tips and pictures